As part of Zhejiang University's "Reaching Far" Program, a series of social research was launched by CMIC-UAE practice group from August 6th to 31st, with the first 6 teams of postgraduates visiting countries along the Belt and Road.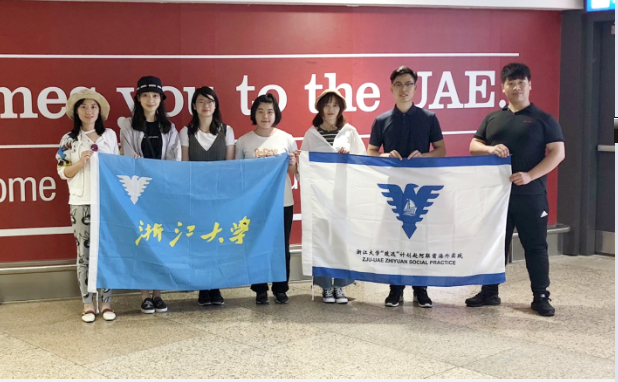 As Kong Xiaomeng, guiding teacher of this program and Vice-Secretary of CPC Committee at CMIC, remarked, consisting of 5 doctoral candidates and 1 postgraduate, the team arrived in the United Arab Emirates on August 7th, and visited cities including Abu Dhabi, Dubai, Sharjah and the Rhine for a one-month-long social research program.
The team visited local media stations including CCTV Middle East Correspondent Station, People's Daily Overseas Edition (Middle East) and The Oasis, first Chinese newspaper in gulf countries. Later, they called at ZJU alumni who worked in Middle East and North Africa region for Hikvision, and exchanged ideas with local students from United Arab Emirates University and American University of Sharjah. In their field trip, the team had not only investigated on Chinese media's good experience and practices of telling China's story and finished their research report, but also contributed to China's story and image in their own way.
In fact, ZJU's "Reaching Far" Program of Postgraduate Overseas Social Practice, aims to establish a number of overseas social practice bases for postgraduates in countries along the Belt and Road, which can help them to implement the vision of a community of shared future for mankind and cultivate globally-competent innovative talent and leaders.