On June 16th, alumni of TCSL class 0401 in College of Media and International Culture gathered at Zijingang Campus for a commitment "Poetry of the Day After", the 10th anniversary party after graduation. There were 17 of them who came back to Alma Mater across the country, put on the customized T-shirt and looked back on the memory in room 611 of Yue Ya Building.
"That's our first time to outdoor barbecue", "That's us as a volunteer on the ground" …Old pictures flipped on the screen and memory was aroused as classmates 10 years ago. Looking at their own picture, they couldn't help but exclaimed how time filed.
Later on, alumni got on stage one after another, recalling funny stories of learning and living in college and sharing career experiences and gains during the 10 years. After graduation, some studied further for postgraduate or doctorate degree, some made progress in career, some lived in peace and beyond as they expected, and some hopped among jobs and prepared to climb higher with the 10 years as a new start. They revealed happiness and complicated feelings out of their complexion when talking. It was a memorable and treasurable experience of college in life. Thus, wherever they are, whatever they are, they are often proud of Alma Mater and their identity as "ZJUers"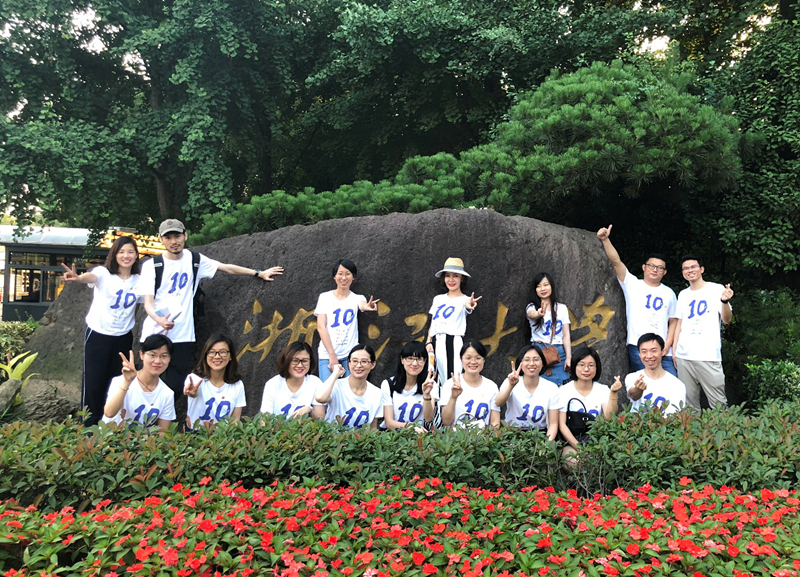 After the meeting, they visited the campus, as walking and taking photos. Compared with the first time, Zijingang Campus is prosperous with the magnificent Qiushi Lecture Hall and rising buildings in the West Zone, which are footprints in the process of constructing the top class university in the world.
As walking, they came to Lantian dormitory, they felt familiar with the old building, as if they travelled back to the time when they were together joining military training, washing clothes, buying meal in the school canteen, and riding to take class. Every tree and grass witness their past days and their trip for dream.
Youth is a song singing cheerful and pleasant melody.
Youth is a picture drawing beautiful and romantic color.
Graduated for 10 years, you are still young.
Alumni have made a new commitment for another 10 year gathering.