On 16th November, the 8th International Forum on Marxist aesthetics was held in Hangzhou, China. Over 120 scholars from universities and institutions around the world attended this forum contributing to the theme: Contemporary Aesthetic Issues: Theory and Art Criticism.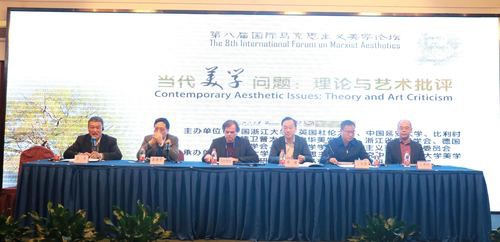 This forum was jointly sponsored and hosted by Zhejiang University, Durham University, Yan'an University, University of Antwerp, Chinese Society for Aesthetics, Zhejiang Society for Aesthetics, German Society of Aesthetics, Committee of Marxist Aesthetics, Chinese Society for Aesthetics, and Center for Contemporary Marxist Aesthetics of Zhejiang University. It was organized by Center for Contemporary Marxist Aesthetics of Zhejiang University, Institute of Aesthetics and Criticism of Zhejiang University, and the editorial office of Research on Marxist Aesthetics.
Aesthetics and art criticism play significant roles in social and cultural changes. Scholars challenge collective values on subjects such as art criticism, Marxist aesthetics and contemporary Chinese aesthetics, in hope of critical insights on beauty, justice, and social development. Scholars study shoes, films and coffee planetary in an aesthetical framework to examine the invisible mechanism and logic embedded in social phenomena of equality, social governance and cultural habitus.
At the forum, scholars discussed classical Marxism, fashion and aesthetic anthropology, aesthetic governance, social culture, and cultural activities in contemporary time, with a focus on the relationship between technology and humanities. Professor Fugui Zhang from Jilin University explained why humanities was of great importance in our time. Professor Dieter Mersch from Zurich Art University emphasized the difference between art and scientific knowledge, and the significance of art in ordinary life. Alexander Petrov from St. Petersburg State University approached environmental issues ethically and aesthetically. Professor Qing Cao from Durham University investigated the flow of ideas throughout the history. Professor Wang Jie from Zhejiang University continued to explore the relationship between technology and humanities, suggesting intellectuals should reconstruct social values in contemporary art practices.
The International Forum on Marxist Aesthetics originated from Bilateral Forum of Sino-British Marxist Aesthetics in 2011. With increasing influence in academia, the forum has become one of the most important international academic activities in the study of Marxist aesthetics in the world.