HANGZHOU — On June 27, Journalism Studies introduced on its official Twitter account that Prof. Hongtao Li had been appointed to the editorial board, becoming the second board member from mainland China.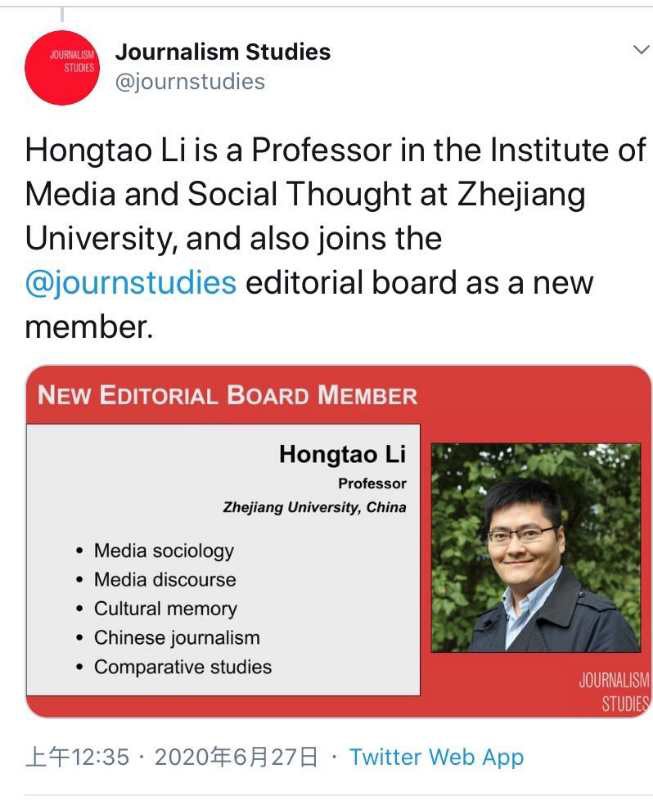 Screenshot of the Twitter announcement

Dr. Hongtao Li is a professor at the College of Media and International Culture (CMIC) of Zhejiang University. Since 2020, he has been one of the Book Review Editors of the journal Communication and the Public published by the CMIC and SAGE Publishing. Prof. Li's research interests include global communication, media sociology and cultural memory. Major English and Chinese journals have featured his research papers.
Journalism Studies is a flagship journal in the field of journalism, which provides a forum for the study and critical discussion of journalism as both a subject of academic inquiry and an arena of professional practice. The journal's editorial board and contributors reflect the intellectual interests of a global community of academics and practitioners concerned with addressing and analyzing aspects that seek to provide a stronger foundation of knowledge in the field of journalism. The journal's broad scope includes theories and conceptual frameworks of journalism, epistemological concerns in journalism studies, the best methodological practices in journalism studies and others.