HANGZHOU—On October 18, the College of Media and International Culture (CMIC) held the 258th Communication Forum themed "Understanding Africa: From Stereotypes to Media Communication". Dr. Zhang Yong from the CMIC carried out a dialogue with Mr. Shu Zhan, the former Chinese Ambassador to Eritrea and Rwanda and currently a senior researcher of the China Foundation for International Studies (CFIS) and the director of Center for African Studies.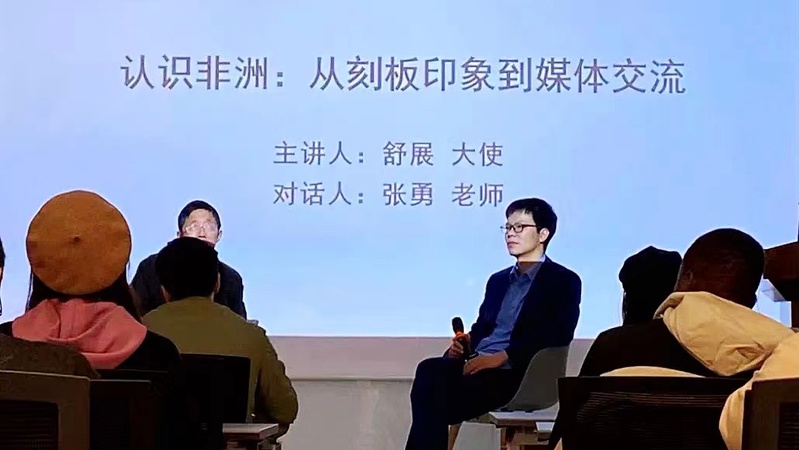 Mr. Shu mentioned that unlike the Ministry of Foreign Affairs, the International Department of Central Committee of CPC rarely adopts the 'direct translation' method. The latter emphasizes on delivering renditions that are relatable in a deeper sense, which requires extra time and effort to produce. Mr. Shu did not have a foundation in international relations and politics when he first started, so he had to study and learn systematically in order to pass the selection test of the International Department.
Mr. Shu was told that in 1977, there were less than 200 researchers in China whose studies focus on Africa. Fast forward to today, the number hasn't increased by much. The majority of stereotypical impressions on Africa stemmed from the lack of knowledge and insight—even authors who wrote about Africa don't necessarily set foot in Africa. He gave an example using the attempt to popularize the seedling throwing method for rice paddy in Rwanda. People thought the attempt failed because Rwanda people were too lazy, but in actuality, it was because rice doesn't suit their diet habits. On the other hand, mushroom farming got widely accepted despite its high maintenance. The only way to eliminate stereotypes is by visiting the place in person.
Africans mainly engage in agricultural labor and spend most of their time in the fields. In comparison, radio broadcasting has a higher potential than television and film when it comes to communications. Nevertheless, Mr. Shu realized war film productions of China are greatly favored by the locals. Hence, he organized several public movie broadcasting events during his ambassadorship. He pointed out that adequate preparation and understanding must be obtained beforehand to dismiss any risk of cultural conflict. In conclusion, Mr. Shu expressed that China and Africa should seek mutual development in the future.