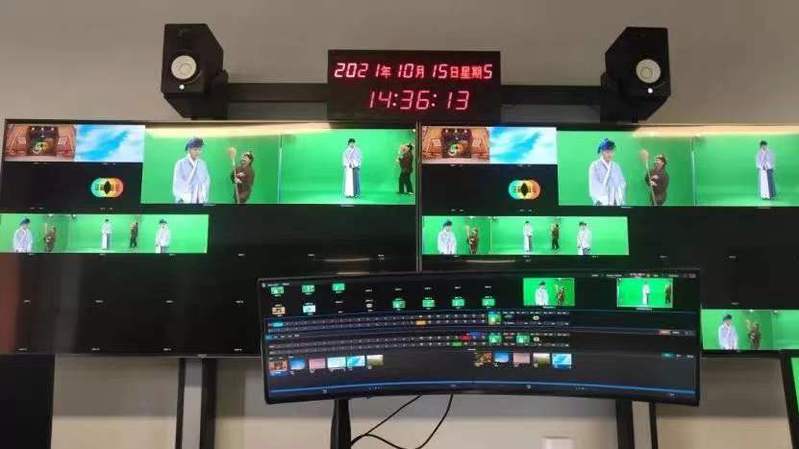 HANGZHOU—"Film and Television Creation and Practice" is the very last course on the syllabus for second-year master's students of broadcasting major. Conducted by Associate Professor Zhou Liying, the course offers hands-on activities that provide realistic practices. Platforms, subjects, and possible portrait rights and copyright issues are all taken care of at the beginning of the course to provide an ideal environment for students' creation. Students are expected to integrate creative imagination with artistic practices, which will benefit their future development as well. The recently established virtual studio of the CMIC serves as a timely lecture room for this course.
Unlike conventional cramming style, Prof. Zhou embraces popular variety shows as the entry point and encourages students to imagine and innovate without drawing any boundaries. Students are able to produce a series of variety shows by utilizing the virtual studio.
The virtual studio of the Provincial Media Experimental Teaching Demonstration Center of Zhejiang University houses a green box and a virtual broadcast system. The green box is a room of green walls that has 21 individual light sources. Students can then alter and render their contents for recording or live-streaming with the system provided, which can also reduce production workload.
Producing a five-minute video clip is actually not as easy as it seems especially for the students. Even though they have been lectured on the broadcast system, lighting system, audio system and teleprompter beforehand, problems and difficulties still occur and require multiple tries before succeeding. Prof. Zhou and technicians are always ready to help students in overcoming these obstacles.
Through this course, students are able to gain hand-on experiences and in-depth knowledge regarding the making of a show. All in all, it not make them realize their inadequacies, but also completes their master's journey with a high note.