On June 27, 2022, the 14th Zhejiang University Senior Seminar on "International Cutting-edge Communication Theories and Research Methods" inaugurated online. Nearly one hundred young scholars from home and abroad gathered online to share the academic feast.
Themed "Digital Global Communication: Technology, Culture and Politics", the seminar was co-sponsored by Zhejiang University, University of Wisconsin, University of Pennsylvania, the Committee of Global Communication and Public Diplomacy as well as Network Communication History Committee from the Chinese Association for History of Journalism and Communication, founded by the College of Media and International Culture of Zhejiang University, and supported by China Media Report.
On the first day, Professor Pan Zhongdang from the University of Wisconsin and Dean Wei Lu from the CMIC delivered opening speeches respectively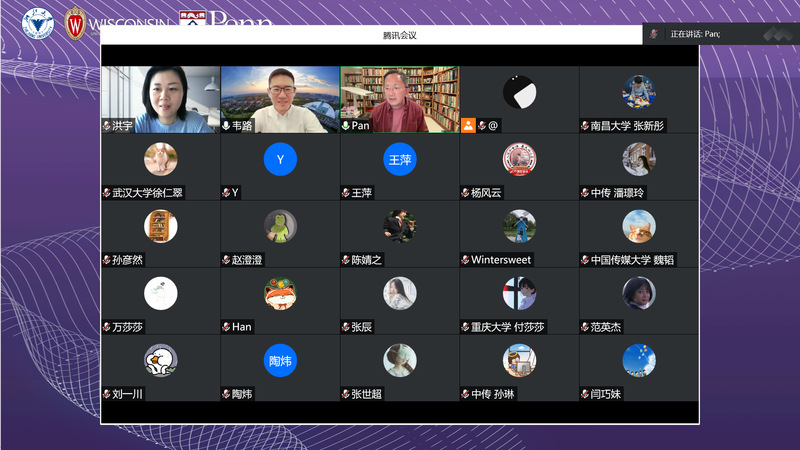 Professor Pan Zhongdang pointed out that study was aimed to master more analytical approaches and theoretical resources, and research was to extract insights from the investigation into Chinese practical problems. Academic taste should be based on solid foundation, with meticulousness, clearness and accuracy first rather than dexterity, grand narration, styles and rhetoric.
After that, Dean Wei Lu extended a warm welcome to all participants and hoped they could jointly interpret the process, context and politics of digital globalization transformation through various perspectives, different scales and multiple methods, and also wished new inspirations, concepts, theories and ideas in the field of communication could be created, supporting the Building of Chinese independent knowledge system.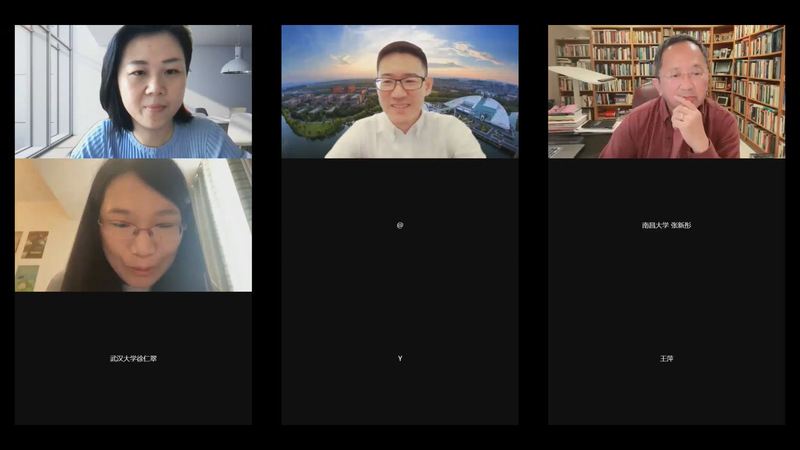 After the opening ceremony, the seminar formally kicked off. First of all, Professor Pan Zhongdang gave a speech entitled Discussion on how to reconstruct the category of 'Yuan' - a 'cognitive reflexivity'. He defined and discussed the problems of social epistemology from the perspective of experience.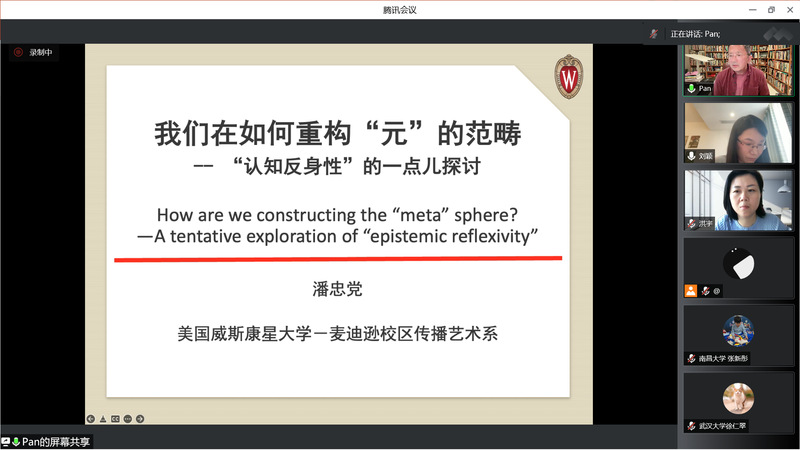 On the afternoon of June 27, Professor Wu Fei from Zhejiang University gave a speech titled Resonant Digital Community: Structural Re-transition of the Public Sphere. He explained the digital community from the theoretical origins and core concepts of the public domain, the changes in the digital public, the way to understand these changes and theoretical models.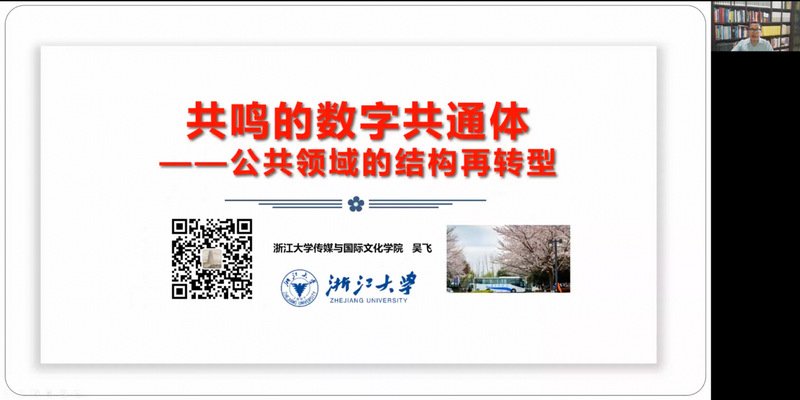 On the evening of the same day, Professor Fang Xingdong from the CMIC gave a speech themed The Basic Pattern and Paradigm Shift of Global Digital Communication, which was divided into three parts: Re-understanding the Internet, Paradigm Shift of International Communication and the Algorithm Cognition War of Russia-Ukraine Conflict.
On the morning of June 28, Professor Yang Guobin of the University of Pennsylvania gave a lecture on the topic of The Formation of Events, Emotions and Digital Public. Beginning with the introduction over the development of online public opinion since 2022, he discussed public participation, Internet culture and politics in the age of social media.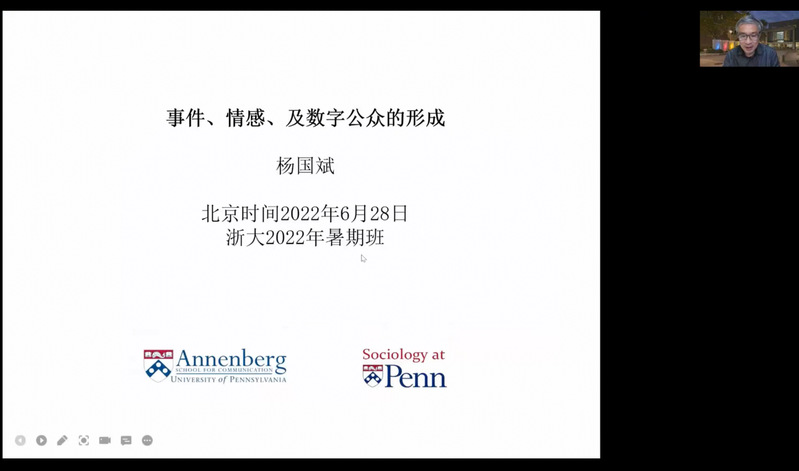 On the afternoon, Prof. Zhang Weiyu From the National University of Singapore gave a lecture entitled From Civic Tech to Civic Artificial Intelligence. She explained what Civic Tech was from the perspectives of Gov Tech, CSO Tech and Civic Tech Entity, and then she organized a discussion to help students to have a deeper understanding of the unify between artificial intelligence development and application and civil values.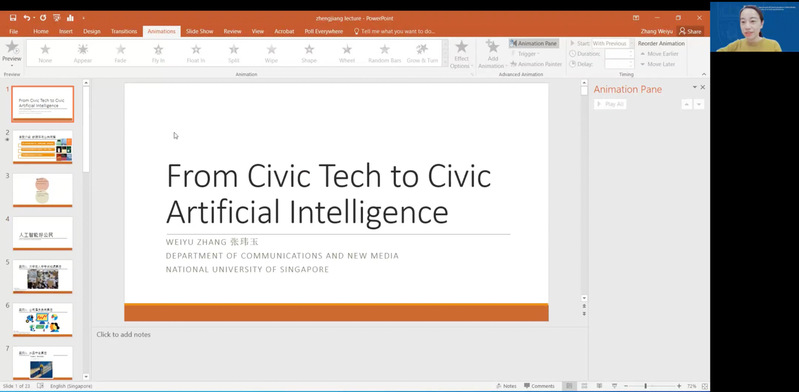 On the morning, Prof. Yu Haiqing from Royal Melbourne Institute of Technology presented a lecture entitled Digital China as Method: Western Knowledge Production about China. She pointed out that the methods and direction of digital China research should be rethought as global epidemic and geopolitics were constantly changing.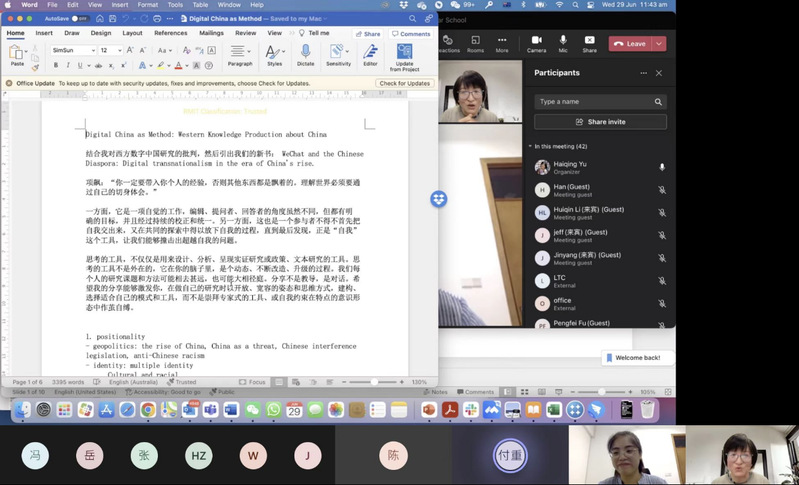 On the afternoon, Prof. Thomas Poell from the University of Amsterdam gave a talk entitled Platform and App Studies. He explained the concept of platform, how it developed in different theoretical traditions, and the history of the conceptual basis of platform research.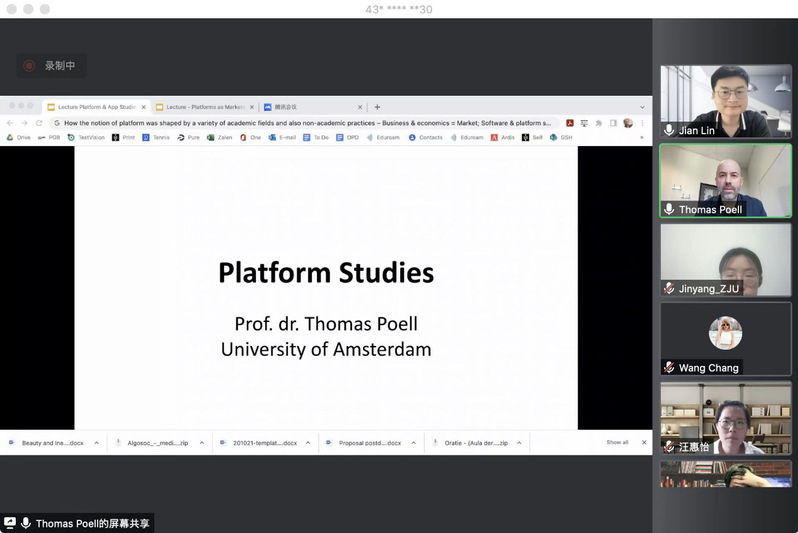 On the morning of June 30, Associate Professor Lin Fen from City University of Hong Kong gave a lecture on the topic of the Methods and Art of Digital Sociology. She demonstrated there was no need for worrying about being criticized for thinking high and suggested reading more books, including those seemingly useless books.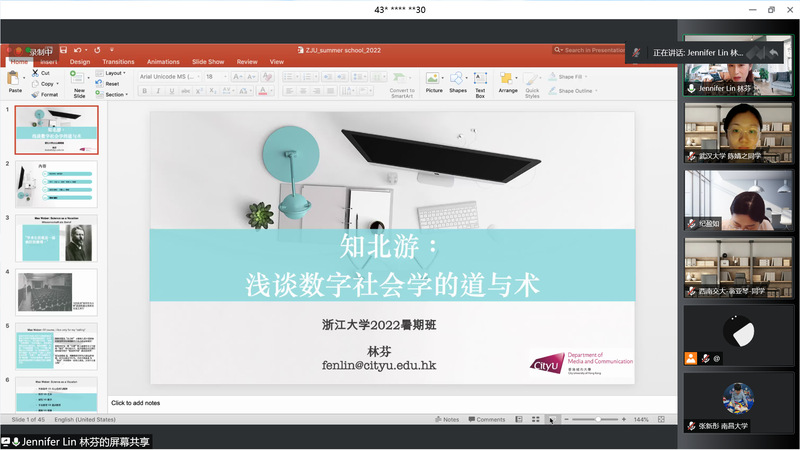 On the afternoon, there were 14 students in total sharing their dissertations. Teachers Li Dongxiao, Li Siyue, Li Hongtao and Wu Hongyu gave comments, where students gained a lot. Finally, the list of outstanding students was released and Associate Dean Hong Yu delivered the summary speaking, which announced the end of the summer seminar.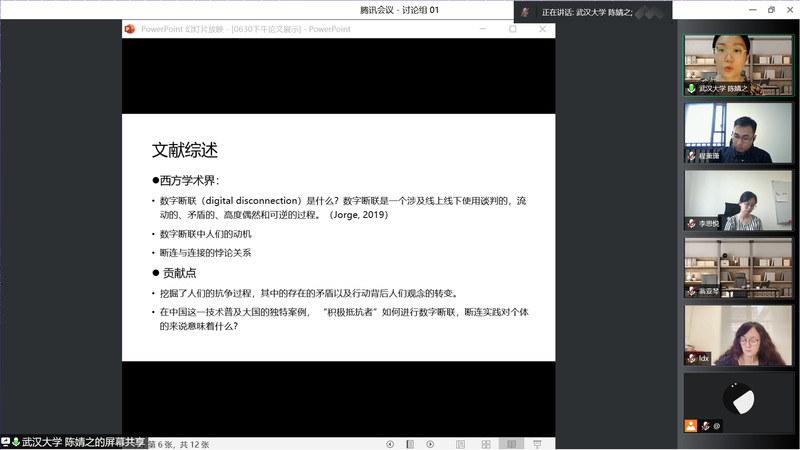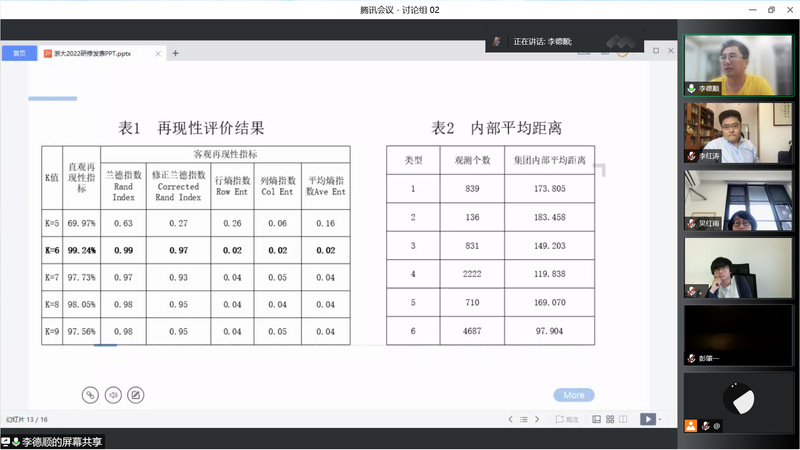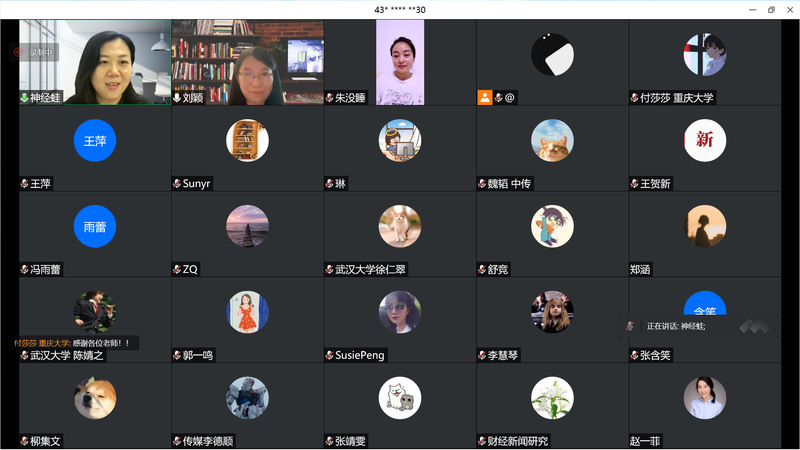 The international academic seminar themed "Revisiting Politics & Poetics of Digital Transformation"
On the afternoon of July 1, the international academic seminar themed "Revisiting Politics & Poetics of Digital Transformation" was held online. Huang Yihui, associated chief editor of "Communication and the Public" and professor of the City University of Hong Kong delivered the opening speech.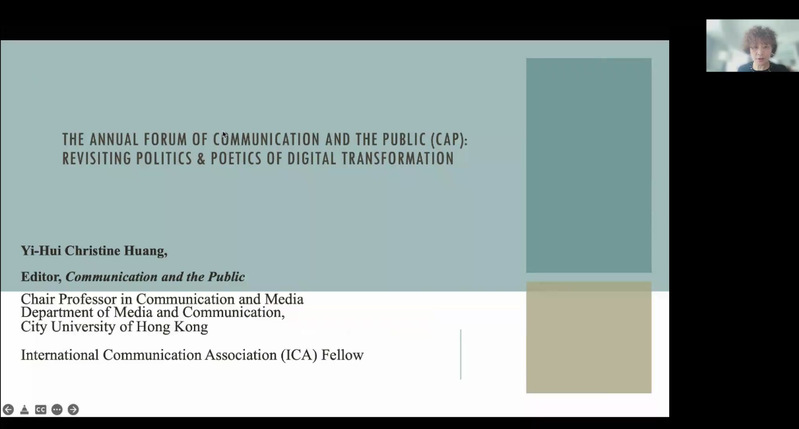 Hosted by associate dean Hong Yu, Associate Professor Liu Ying, teachers Lin Jian and Sun Yu, the seminar had wonderful academic sharing keeping to the point. Prof. Yu Haiqing of Royal Melbourne Institute of Technology, Researcher Sun Ping of Chinese Academy of Social Sciences, Specially-appointed Researcher Sun Yu of Zhejiang University shard their views on "Datafication and Digital Culture". Prof. Thomas Poell of University of Amsterdam gave a lecture titled "Platforms & Culture Production", then Prof. Scott Wright of Bournemouth University "From Comment Spaces to Weibo: Building Constructive Online Engagement for Journalists". Associate professor Zhang Weiyu of National University of Singapore, associate professor Gianluigi Negro of University of Siena and associate professor Siyuan Yin of Simon Fraser University shared "Participation and the Publics". Researcher of the Hundred Talents Program Lin Jian of Zhejiang Univerity, Prof. Clemens Apprich of University of Applied Arts Vienna, associate professor Lin Fen of City University of Hong Kong discussed on "Automation, AI and the Future of media".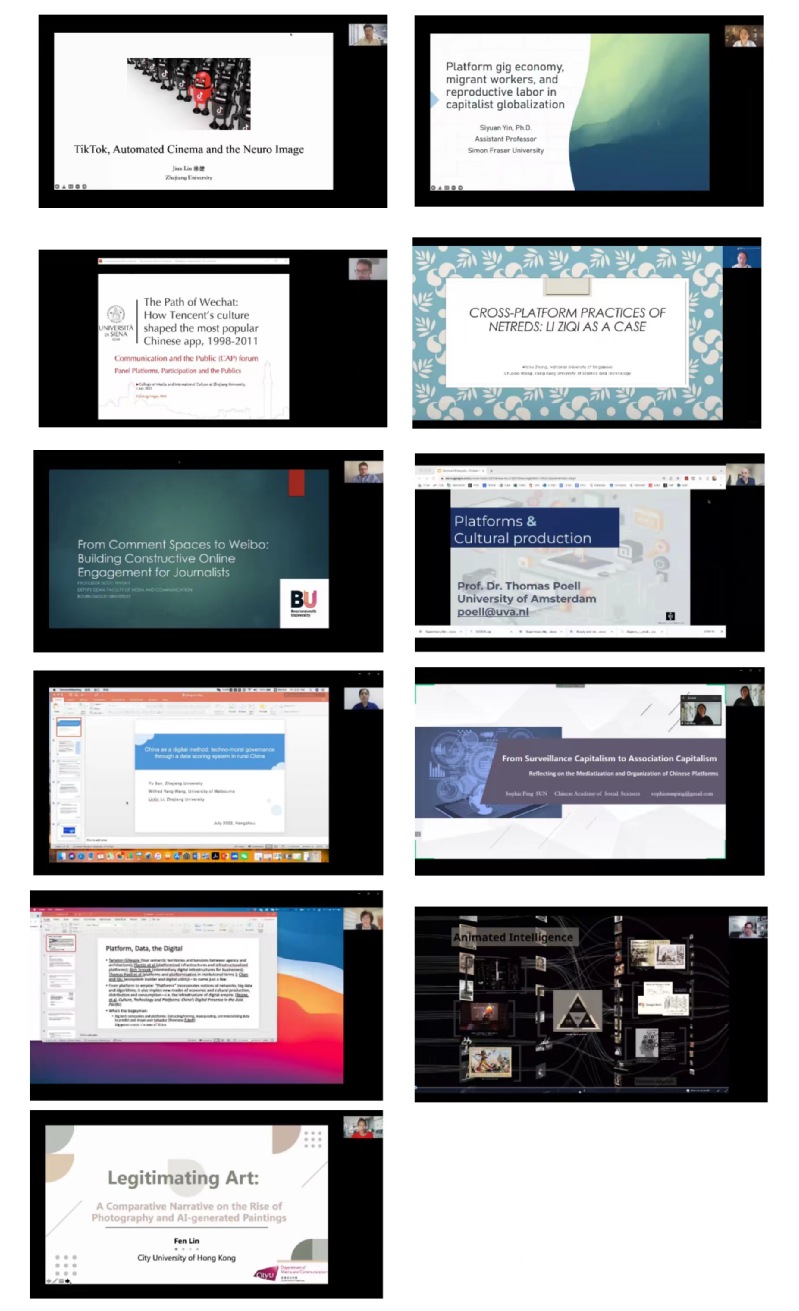 At last, host by associate dean Hong Yu, Round Table Discussion was carried out on media and media politics conceptualization, connections between the digital, history, zones and society, as well as research topic in the future.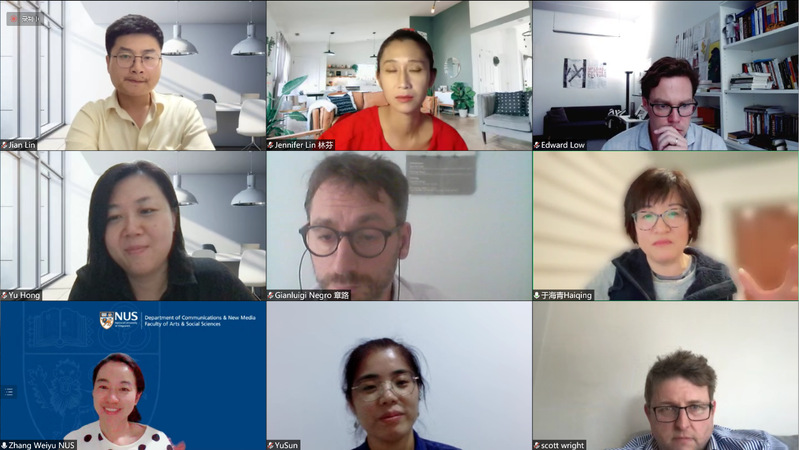 .